Responsive WordPress Photo Gallery Plugin and Slider
Excellent responsive WordPress photo gallery plugin. Turn native WordPress galleries into Smart Photo Galleries with albums, fullscreen mode and 3D transition effects. Creating stunning WordPress galleries has never been that easy. Smart Photo Gallery plugin has built-in shortcode generator that makes it easy to customize gallery look to fit your awesome website's design perfectly. Settings are easily set through a pop-up window that generates the shortcode needed.
Features
Use Native WordPress [gallery]
Built-in Shortcode Generator
Amazing Fullscreen Mode
Image Slider Mode
Draggable Zoom Feature
Easy Gallery Albums
Fully Responsive Layout
CSS3 Transition Effects
FontAwesome Vector Icons
Support Touch Devices
Retina Friendly
Highly Customizable
Template Tag to use in themes
Fully Responsive
With this simple, but feature-rich responsive WordPress photo gallery plugin, you can not only create beautiful galleries, but also unlimited sliders using image slider mode. Smart Photo Gallery plugin allows you to create galleries and sliders that will look great on all devices, desktop, tablet and mobile, which is essential.
No Coding Required
This excellent responsive WordPress photo gallery plugin is a must have for any professional photographer, who doesn't have coding knowledge. All the coding is already done for you. All you need is get this Smart Photo Gallery plugin and start creating stunning galleries for your website today!
Learn How Simple It Is To Use All The Smart Gallery Features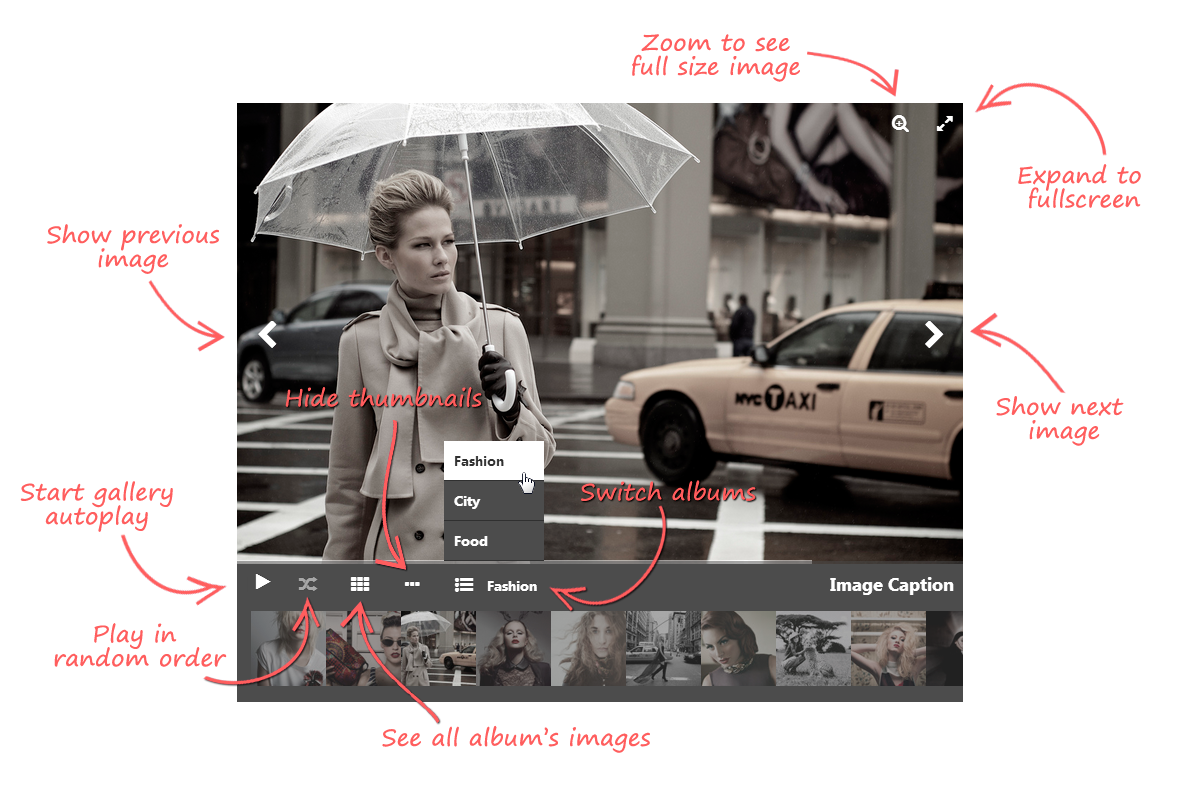 Template Tag
Selling Themes on ThemeForest? Looking for an awesome responsive WordPress photo gallery plugin that can be easily integrated to your WordPress template? Purchase Extended License to add Smart Photo Gallery to your ThemeForest item.
Slider Mode
Create unlimited responsive sliders using native WordPress galleries. It's never been so easy! Add and manage images using native WordPress tools, style slider using built-in Smart Photo Gallery shortcode. Press button below to see slider demo.
Not Ready To Buy? See What Plugin Customers Say
Smart Photo Gallery – Responsive WordPress Plugin has 4.64 average rating based on 22 reviews

"Worth every penny… The best support I've ever had on CodeCanyon. I give 5 stars and recommend it, just do not give 6 stars for is not possible. The gallery is amazing, I highly recommend if you are looking for a sensational gallery."

"Sometimes people do need simple but functional image viewer for their website.
This gallery is the one I needed because:
– it manages the photos through the [gallery] – main WordPress gallery;
– simple, yet beautiful/functional image viewer – large image + thumbs. It has everything one might need, in general.
– settings are easily set through a pop-up window that generates the shortcode needed;
– great, fast and polite support."

"Topdevs really came through for me. I needed an image gallery just like their Smart Photo Gallery but it didn't have a PHP template tag. I asked them about it in the comments and within 24 hours they released a new version with a template tag that did exactly what I was asking about. IMPRESSIVE! The plugin is feature rich ad well documented. Five stars all the way! "